Comprehensive Process
Our Simple Three-Step Process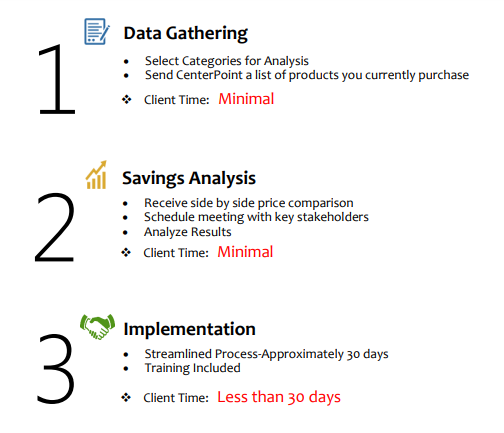 Our three-stage process turns good programs into best-in-class programs. We base the process on our ability to analyze, optimize, and implement with little time investment from our clients. CenterPoint will build a program that encompasses all facets of your procurement requirements.
Data gathering
During the first stage of our process, we gather historical data from our clients and comprehensively review the program's specific purchases and supplier agreement. This gives us a snapshot of the program, allows us to identify areas of concern, and gives us an understanding of clients' buying behaviors and spending habits.With this information in hand, we rationalize the program structure and market baskets and are able to target specific SKUs and potential money-saving alternatives.
Comprehensive Savings Analysis
Once the data gathering and comprehensive review are complete, we have a full picture of the program and can begin our savings analysis.We will then utilize our pre-negotiated contract pricing and terms and conditions, built on the aggregate spend of our members, to create a best-in-class solution. We combine this insight with our extensive expertise and cutting-edge market intelligence to craft a specialized purchasing program for each company. This allows us to offer recommendations that address all areas of concern and provide more than just reduced cost to our members.In addition to explicit price points, our pricing architecture includes language to assure accountability, verifiability, and sustainability. CenterPoint negotiates directly with suppliers to secure each recommendation and execute the optimization strategy.
Implementation & Ongoing Oversight
The implementation phase is a key point of failure in any optimization exercise, so we actively manage the process for our clients. Once we execute an agreement, our team of industry-recognized experts works directly with the supplier to ensure full and accurate implementation of all agreed-upon pricing and terms. Our complete and proven approach consistently delivers superior pricing and programs for our clients and provides future savings throughout the term of our agreement. After the program has been implemented, CenterPoint offers clients ongoing oversight of the category. We analyze all purchases over the course of the relationship to ensure compliance with contract pricing and terms. If there's an issue, we work with the supplier to resolve the dispute. We specialize in mitigating or eliminating unwarranted price increases and errors. We recover billing errors, present unwarranted price changes, identify unit of measure discrepancies, replace discontinued products, recommend product substitutions, monitor core-list ratios, and more. We also conduct periodic optimization efforts in response to changes in buying patterns or market conditions, including both core-list and SKU rationalization exercises in the process.